Enabling Video playback on C350
This How-To shows you how to get additional features on cheap C350-450 models.

Feature list
SRS-virtual sound
DLNA (through wi-fi)
Black ballance up to 10 points
Anyntet+ (HDMI-CEC)
AllShare
BD Wise
Setup and use Economy mode
How to
1. TV in Stand-by mode.
2. Go to Service Menu by pressing buttons on remote control:

INFO-MENU-MUTE-POWER (For LE models - Europe)
MUTE-1-8-2-POWER (For LN and LA models - USA/Asia-Pacific) 

3. Put in USB HDD/flash formated to FAT32.(not necessary! you can go ahead w/o any usb attached)
4. In service menu go to Control - Hotel Option, set to ON
5. Navigate by pressing down and execute Clone TV to USB
6. Now we have extended service menu. Press return

7. Enter to Option and change Model to LC630.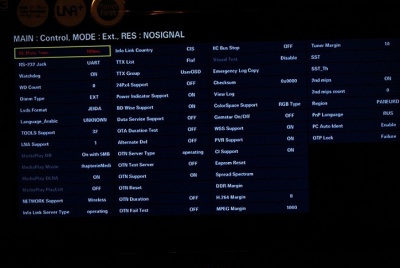 8. Go to back.(push on remote control to return)
9. Change Front Color to T-C-BLK
10. Go to SubOptions and change:
RF Mute Time to 0
LNA Support to 1
NETWORK Support - Wirelless (with supported wifi dongles like EDIMAX EW-7717UN)
Power Indication Support - On
BD Wise Support - On
PnP Language (leave as is)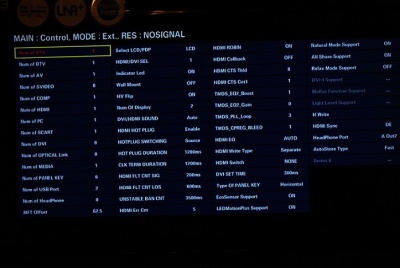 11. Go to: Sound - High Devi - ON
12. Enter to Control - Config Option and change
HDMI to 1 
Headphone to 0

(You have now again voice on your TV)

All Share Support - On
LEDMotionPlus - On

13. Restart your TV, go to Service menu again
14. Turn Hotel Mode OFF.
15. Go to Advanced(you can`t enter submenu, just stay on). Press 0000
16. Go to Picture
17. Go to EPA Standart
18 Set your picture settings (after restart choose Picture-Standart and you get your settings!
19. Restart Tv again.
20. Finish.


References
1. Topic on the forum.samygo.tv.
2. Topic on the forum.ixbt.com.